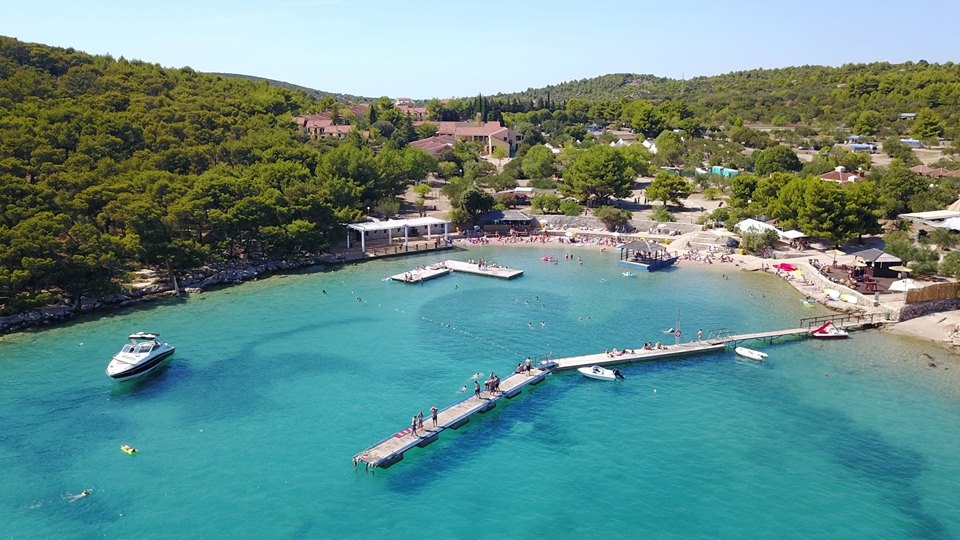 Hospitality goes Croatia with Andy C, Calibre & Randall
Drum and Bass | Wednesday 7th February 2018 | Arren
Having successfully pulled of editions In The Park and In The Dock - the heads at Hospitality are now taking their party On The Beach!
In terms of big parties in the last few years, Hospitality have been leading the way. Regularly hosting raves across Europe, showcasing the best d&b talent. They made history hosting the UK's first drum & bass only festival before then taking over London's infamous Tobacco Dock. Hospitality's In The Park and In The Dock parties are arguably the biggest drum & bass events to have taken place in the last few years. But that's not stopping them from diving into even more projects this year.
This summer the Hospitality team have decided it was time to throw a Hospitality rave On The Beach, and where better than sunny Croatia? They'll be taking the reins of The Garden in Tisno between the 12th and 16th of July.
They've pulled all the stops for their debut On The Beach edition and have secured an insane line up of drum & bass to touch down on the Adriatic coast. Taking prime position is Ram Records boss Andy C who'll be performing a 3 hour set. Other highlights on the main-stage are Kings of the Rollers who've smashed the underground, Camo & Krooked and a host of Hospital signees with Danny Byrd, S.P.Y, Fred V & Grafix and of course the label heads themselves, London Elektricity.
Away from the main-stage and Hospitality have crammed in the goodies. A selection of the best promoters and labels have been signed up for hosting duties including Run, Critical, Spearhead and Jungle Jam X Shakout. Each brings a sick crew of DJs to spin, and when you've got sets like dBridge b2b Calibre or DJ Marky locked you know the vibes will only be big. This looks set to be one of the biggest drum & bass events of the summer - tickets are out now, bag youself one here and check the full line up below.
| | |
| --- | --- |
| HOSPITALITY | JUNGLE JAM X SHAKOUT |
| ANDY C (3 HOUR SET) | TOP CAT (LIVE) |
| CAMO & KROOKED | RANDALL (3 HOUR SET) |
| HIGH CONTRAST | DILLINJA |
| DANNY BYRD | NU:TONE (LOST DUBPLATES SET) |
| LONDON ELEKTRICITY | S.P.Y (JUNGLE SET) |
| FRED V & GRAFIX | UNCLE DUGS |
| KINGS OF THE ROLLERS | SHAKOUT SOUNDS |
| MADUK | SUITMAN JUNGLE (LIVE) |
| LOGISITICS | |
| NU:TONE | RUN |
| KRAKOTA | THE PROTOTYPES |
| UNGLUED | SUB ZERO B2B CRITICAL IMPACT |
| INJA'S FULLY FLEX FEAT. PETE | VOLTAGE & SERUM |
| CANNON | D* MINDS |
| MAKOTO | |
| URBANDAWN | THE BLAST |
| HUGH HARDIE | EGOLESS (LIVE) |
| | SP:MC (DJ SET) |
| SPEARHEAD PRESENTS | L U C Y |
| CALIBRE B2B DBRIDGE (4 HOUR SET) | JAYDROP |
| BCEE | FIRE MAN SAM |
| TECHNIMATIC | K STYLZ | TS2W |
| LSB | |
| SEBA | HIGH TEA MUSIC |
| UTAH JAZZ | T & SUGAH |
| VILLEM & MACLEOD | NCT |
| | HIGH MAINTENANCE |
| CRITICAL | L.A.O.S |
| MEFJUS | KASGER B2B MELURAN |
| IVY LAB | ZAZU |
| KASRA | APERIO |
| ENEI | SMUSKIND |
| HALOGENIX | LASU |
| FOREIGN CONCEPT | KROMABIS |
| | |
| SUN & BASS | VOCALISTS |
| DJ MARKY | 2SHY |
| FABIO | ARDI |
| LENZMAN | CARASEL |
| LOGISITICS B2B NU:TONE | DAXTA |
| TOTAL SCIENCE | DEGS |
| FD | DRS |
| SUBMORPHICS | DYNAMITE |
| ARP XP | FAVA |
| | GQ |
| MED SCHOOL VS BLU MAR TEN | HARRY SHOTTA |
| ETHERWOOD | IC3 |
| KEENO | INJA |
| BLU MAR TEN | J:MC |
| WHINEY | JAKES |
| KIMYAN LAW | LOWQUI |
| BOP | LX ONE |
| CONDUCT | MANTMAST |
| TIM REAPER | RAGGA TWINS |
| | ROBERT MANOS |
| CONTRAST VS DIVERCITY BASS | RUTHLESS |
| AUDIO DEVICE | SKIBADEE |
| ARCNET | SP:MC |
| BLIND JUDGE | TEMPZA |
| CRUMBLING EMPIRE | TONN PIPER |
| TOTAL RECALL | WREC |
| DORA | |