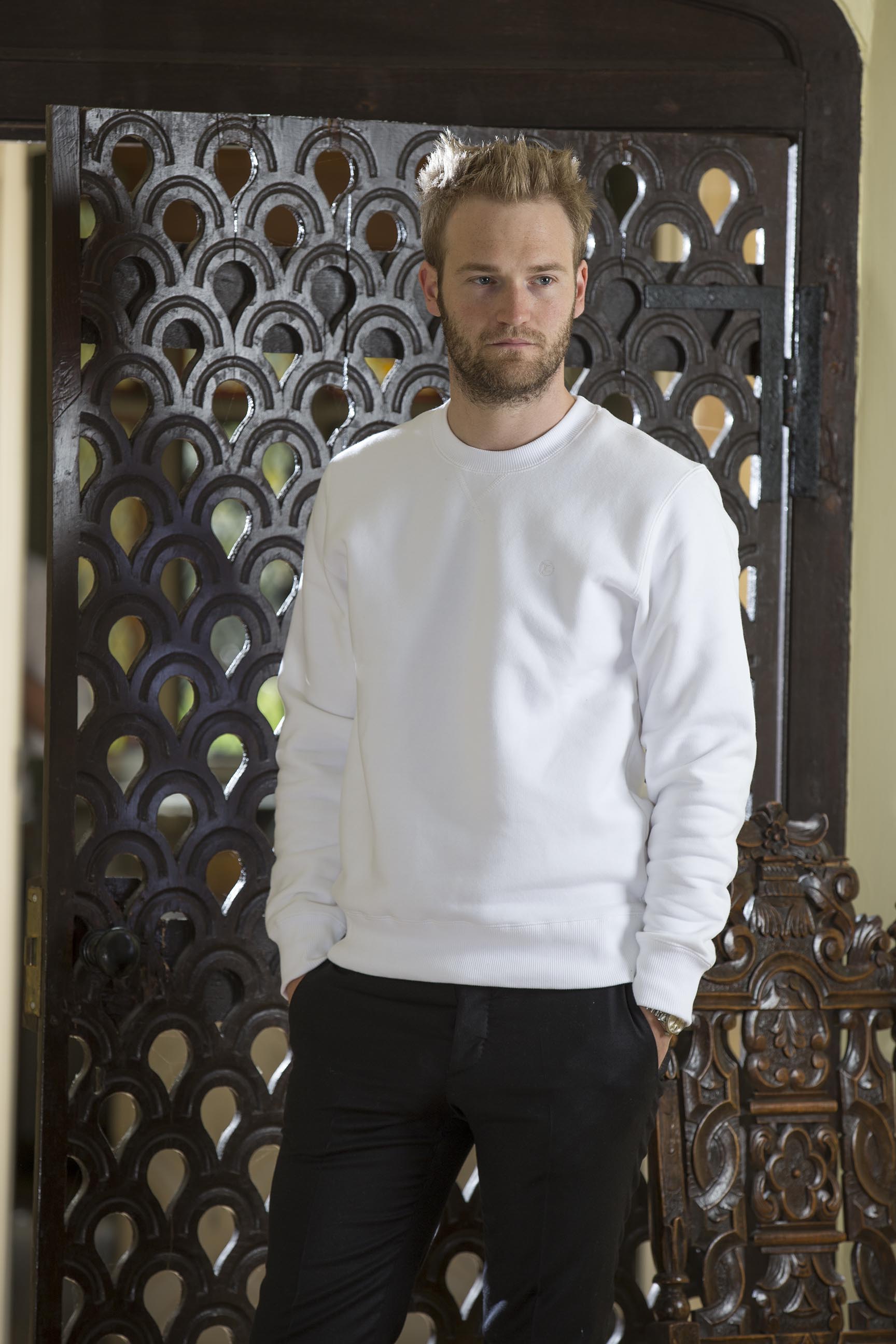 Tom Cridland keeps it simple with the 30 Year Sweatshirt
Following our discovery of Tom Cridland fashion – a simple, ethical clothing brand designed to last at a reasonable price, we decided to get the lowdown from the man himself on a few points…how exactly do you go about making a piece of fabric essentially indestructible? What's the philosophy behind the brand and is it as ethical as it claims? After a quick chat, we established a few central tenets of the brand – keep it simple, keep it moving. Cridland's simple, modern designs reflect its philosophy, and with plenty new projects in the pipeline, it looks set to soar.
Hi, how are you?
I'm very well, thanks!
What's going on in the world of Tom Cridland?
The Tom Cridland fashion label is my labour of love and I aim to use our 30 Year Collection to try and encourage sustainability in the industry. I run it with my beautiful girlfriend, Debs, along with Tom Cridland Public Relations, an agency with about 15 clients whom we assist with securing press coverage. We've also just founded Tom Cridland Entertainment, which will be promoting a new rock album recorded at Abbey Road in London and is also developing a music documentary.
Explain a bit about yourself and your business
The 30 Year Collection was launched by my brand, Tom Cridland, which I started in 2014 with a £6,000 government start-up loan. We specialised initially solely in trousers, making them in a wide variety of colours and fabrics in a signature elegant cut. We still make these today. Things really got off the ground when we had the chance to make trousers for the likes of Leonardo DiCaprio, Ben Stiller, Rod Stewart and Daniel Craig.
The 30 Year Sweatshirt was the first item with a 30 year guarantee that I designed. It was an attempt to make sustainable fashion more broadly appealing and to get consumers thinking about fashion as less disposable. We also aimed to lead an industry trend to protect natural resources by making truly durable clothing.
How do you make a 30 year sweatshirt?
We had to look back to take our concept of the X Year Sweatshirt, a campaign against fast fashion and for sustainable fashion, forward. The 30 Year Guarantee is no gimmick and invokes a bygone era when clothing was made with care. We developed the 30 Year figure with our seamstresses in Portugal who have been making beautiful clothing since 1964. The sweatshirts, t-shirts and jackets are made out of luxury fabric that we source from Biella in Northern Italy, and are now crafted in both Parma, Italy and Serra da Estrela, Portugal. Technological advances allowed us to develop a special treatment to protect the garments against shrinking. We're selling clothing of a quality you might usually find on 5th Avenue or Bond Street direct to consumer without third party retail markups. This allows us to make our clothing truly durable, which protects natural resources, and offer it to consumers at a reasonable price. The 30 Year concept is the game changer, however, though our process is second to none. Fast fashion is damaging the environment, putting responsible brands out of business and ripping off consumers. We are fighting the corporations that are treating both clothing and those who make it disposable by offering consumers something better. Should anything happen to your garment in the next 30 Years, we will repair or replace it free of charge.
Can you describe your style?
I think style is personal and 'buy less, buy better' is very much my philosophy. I try to make sure everything I buy is something I will treasure and my clothes become part of my permanent, personal style.When designing The 30 Year Collection, I made sure the items with 30 Guarantees - t-shirts, sweatshirts and jackets - were timeless. A white t-shirt, after all, will always be a white t-shirt. I just want to invoke a bygone era when clothing was more often made with exquisite care and offer it at a reasonable price point.
Did you always think you were going to be a fashion designer?
The only clothing design experience I had before founding Tom Cridland was selling £3,000 worth of "SWINE 09" t-shirts at school during the pandemic and donating the money to Medicins Sans Frontiers. It was a wonderful taste of entrepreneurship.
Tom Cridland is known for its fight against fast fashion. How do you fight?
The 30 Year concept is what has won and will hopefully continue to win people over. It's interesting that we're offering a 30 year guarantee so people get drawn in to find out more. When they read more, they will engage with sustainability issues and hopefully be influenced to change their shopping habits. On that note, if you fall into the fast fashion consumer category and are reading this - which is, admittedly, doubtful - please buy a copy of Andrew Morgan's incredible film, The True Cost.
You produce ethical, luxury clothing which is far more affordable than most luxury brands. However, how can people who can't afford Tom Cridland be ethical in their consumption of fashion?
Buy less, buy better: with the rise of fast fashion, a prevalent attitude to clothing is to treat it as very disposable and some people go out shopping to cheap fast fashion retailers every weekend and come home with reams of tatty, badly and unethically made clothing. If you make your purchases less frequent and save for the garments that are beautifully made, mean something to you and you'll be likely to hang on to, you'll be helping reduce the vast amount of damage the fashion industry in doing to the environment.
What advice do you have for entrepeneurs and designers who want to make it big and stay ethical?
Focus on your supply chain and, if you can afford to, your carbon footprint to stay environmentally friendly and on your working conditions and the effect your brand has on the world to stay ethical.
To all aspiring young entrepreneurs and designers: don't take any notice of people who say you ought to do something else if you want to start your own business. If you try and do a high-pressure graduate job and start a business on the side, you're going to burn out – there are only so many hours in the day. I wouldn't have been able to grow this company if I'd been doing another job at the same time.
How was it having a pop-up shop in London in January/February?
We were offered a shop in Chelsea rent free during January and February by someone who saw an article about us in the Evening Standard and admired our attitude to sustainability. It was a wonderful experience being able to put our brand in a bricks and mortar location but selling direct to customer without retail markups is a crucial part of our business model. We simply don't want to work unnecessary markups into the price of our products, as we want to make luxury clothing accessible in terms of value to encourage fewer people to turn to fast fashion.
What does the future hold for Tom Cridland?

We're so busy for the rest of this year! We'll be launching our new project, The Entrepreneur's Shirt, a new website, speaking at Fortune's Brainstorm Conference and once again at UCLA, we're doing more charity work with Deki and, very excitingly, we'll be releasing The 30 Year Christmas Sweatshirt this coming yuletide season!
What's on your ipod/iphone/record player right now?

Little Richard, "Shining Star" by The Manhattans, the new Radiohead record, Heart's Greatest Hits, Kenny Rogers, The Life Of Pablo, Sade, Tame Impala's Currents, Glen Campbell, ELO, who I had the honour of seeing at the O2 the other day and much more!
If you could have a swimming pool full of anything, what would it be?
Money or salt and vinegar crisps.
Buy Tom Cridland here, or follow on Twitter or Facebook.