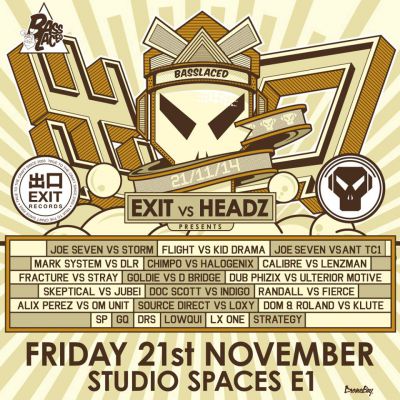 Exit Records vs Metalheadz Friday, November 21st @ 10:00pm - 6:00am Studio Spaces E1 London
Drum and Bass | Monday 15th December 2014 | CHEF
London's Drum & Bass community witnessed the battle of the year. When two of the Uk's biggest DnB labels went toe to toe in the DJ booth.
Metalheadz head honcho Goldie has selected his alliance of foundation Headz artists & invited guests who are all set to come prepared for war tonight with a bag of dub plates aimed at Exit Records.
Dbridge's Exit artists & guests are know for their Craft in preparing to defend and honor the labels name in this clash of the titans!
We walk into the E1 space to be greeted by a wave of heat coming from the dance floor along with smiling faces and oldskool crews holding down their positions in the venue next to the Funktion one speakers!
We catch the last couple of big bass bangers from two legends in the game from to hot to handle Randall vs the No U Turn specialist Fierce drawing out the original 12'dubplates and Vinyl for tonights encounter.
Both sides battled across two rooms with Room 2's clash with Ulterior Motive Vs Dub Phizix and Strategy kicking off the clash turning up dressed as UM with DP sporting the famous Greg johnny bravo quiff and Strats with a pair of glasses and a t shirt with " Im the other one" emblazoned across the front it fair to say that the Manchester crew came and delivered what the crowd were waiting for a little buffalo charge saw them take this round!
The clash of the titans set in room one was being nicely warmed up by the Calibre Vs Lensman set with Mc DRS belting out the bars with light Sabre lyrics without any stress.
Next up the main event Goldie Vs Dbridge preparing themselves with no looks or friendly smiles. Mc Gq steps in as host and match referee.
So it begins tune after tune being spun by both team captains going in deep tonight as a spectator it was becoming to close to call.
Goldie took the crowd on a journey then D bridge eased back on the tempos allowing for some serious pressure that Goldie couldn't come back from in my
opinion D bridge won that episode with 2 special dubs he had been working on till the early hours the night before! Such a close call.
Next up Jubei and Skeptical stepped up the pace with Jubei laying down the law with some fresh baked beats and some slices of classic dnb that had the crowd
on their toes when True romance was dropped.
Skeptical then retaliated with some Congo infused dubs that sent tribal shockwave across the floor
Finding it hard to drag myself away from room 1 as Mark System and DLR commence their battle each playing outside of their skin to keep the beats an bass lashing!
As I make my way out of the building I bump into Klute and Dom who are about to get messy in room two. I was fortunate to watch these two eceptional djs do battle at sun and bass 2014 where they tore the roof off the black room in sardina and was promised a set to match that one with fresh dubs. Unfortunately I had to kindly refuse the offer as the large glasses of brandy consumed during the period of the night had taken its toll.
Time for a cup of tea and a bagel then bed, but what a night!