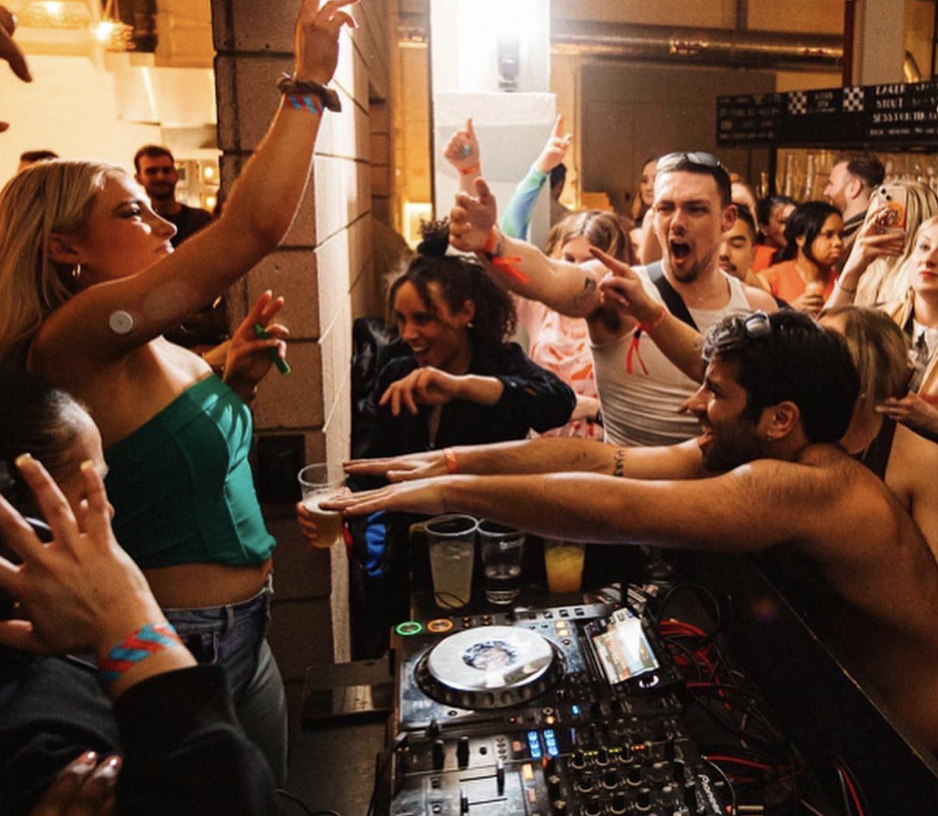 COUNTDOWN TO RISEN FESTIVAL
In just two weeks time on April 1st, Risen will again take over Hackney Wick with a day-to-night session celebrating the 'divine feminine.' Across seven of the Wick's finest venues, 80 artists play, uniting a selection of talent from the UK and beyond. Tickets for the main daytime party on April 1st are available from just £34.50 for early entry, available here. Plus, Risen have added an after party ''Risen at Night' - for those who want to rave past closing time. Featuring Courtesy, Danielle, TSUNIMAN + more, this will be a solid sesh at Colour Factory, grab a ticket here. The dancefloor is open to all, join in celebrating the divine feminine!
Copenhagen's Courtesy is known for her expansive sets that combine techno, soaring trance and euphoric breaks, and is set to headline the after hours gathering at the infamous Colour Factory. Joining Courtesy will be Danielle, whose trademark style ranges from techno to electro and all inbetween, and Danielle will be going b2b with a very special guest to be announced. Complementing the solid bill will be TSUNIMAN going b2b with Wednesday, and in Room 2 Chantz n Lish, DJ Stay In Bed, DJ wiggles, Kmya and Patrisha. First release tickets here.
The idea behind Risen is the 'divine feminine' - reflects the diversity of our electronic underground movement, in both representation and sound. From bass and garage to house, disco and techno, and connecting the dots inbetween, Risen's carefully curated line up will include rinse FM boss EMERALD, Paramida, Heléna Starr, Team Woibey, Michelle Manetti, Tama Sumo, Lakuti, Mixtress and plenty more in the way of talent. There'll be a spectrum of sounds to explore across the day for all party people. A dynamic set of spaces will make up the backdrop for Risen - including Colour Factory, The Yard, Crate Brewery, and All My Friends will provide an ideal setting for the variety of parties.
Risen's mission is to offer something new in terms of programming, and includes talent ranging from rising stars, international names and revered local crews, all of who represent the feminine energy. Visibility and inclusion have been a key part of the Risen programming, and the first edition will be something special to shout about - paying homage to the groups and individuals who are driving forward a progressive culture.
Strut Safe will be Risen 2023's charity partner, an organisation who are dedicated to making women, queer people, people of colour, and anyone who needs us feel safe walking home. Learn more about their work here.
Risen are also looking to involve new faces in their behind the scenes team, with roles such as sound engineer and videographers. Please get in touch if interested.
An exercise in love vibration. The dance floor is open to all; a new energy starts here
RISEN 2023 LINE UP
A.G - Aletha - Emerald - Giulia Tess - Heléna Star - Jay Carder - Jaye Ward - Lakuti - Lena Wilikens - Manara - Michelle Manetti - Paramida - RAW SILK - Scarlett O'Malley - Tama Sumo - Tailor Jae - Team Woibey
Abigail Anna - AGHNES - Alexis - Anjali - Ariane V - Auntie Maureen - Bethan - BEX - Chidera O - Colecta - Dabek - DAYES - Denu - Ell Murphy - Elle Clarke - Fae - FROND - FYI Robyn - GEM - Glade Marie - Goh Well - Hemlin - Huns n Roses - Jess Hands - Jessica - Jojo Jones - Joly - JULIA GOLDFRAB - Kitsta - Kmya - Koast - Lara - Lavandula - Ling Linh - Lishy - Liv Ayers - lola:de - Lora Mipsum - Lulah Francs - Maeve - Meltai - Mixtress - Ms. G - Noodle - ohmydais - Olita - ona:v - Phoebe Valentine - Poison Ivy - Polski Sklepta - Polyamoross - Ri Mistry - Romy - Saturn Sisters - Shannon - From Admin - Sita Shah - SKEETCH - Skull3yez - Tabideee - Teecra - Vandorta - Watcha - Wild Blood & Queenie - Yasmine - Ysanne - + Special Guests
CREWS + COLLECTIVES :
B.L.O.O.M. - Club Cowgirl - Common Ground - Curving Track - Femme Fraiche - House of Carder - Huns N' Roses - Mix Nights - Pollination - RAW SILK - She Made - Sisu - Sub:Terra - Team Woibey - The Beatriarchy - Whomp - Your Love - Strut Safe - Saturn Sisters
RISEN 2023
Saturday 1st April 2023 | Hackney Wick, London
Pre sale sign up : https://ra.co/pre/1540093