RnB/Hip Hop
DIGGIN DEEP: RECORD AUCTION & PARTY SHAKEDOWN!
@Silver Bullet
Monday
7
th
October 2013
7PM - 7PM
Door price ££5 after 10pm
---
DIGGIN DEEP: RECORD AUCTION & PARTY SHAKEDOWN!

---
The Silver Bullet presents:
DIGGIN DEEP: RECORD AUCTION & PARTY SHAKEDOWN! – LAUNCH PARTY!
+ Record Auction + DJ 2 Dam Funky + MC E-Mix + DJ UNshazamable
Monday 7 October @ The Silver Bullet, London

Every Monday! The masterminds behind 2 Dam Funky bring you a first… the Funky People Network, then a live record auction followed by late night party.

Deep deep funky vibes, cool cosmic cutz, magical mellow groove, blissed-out beats, unshazamable rare groove and more…

Part 1
FUNKY PEOPLE NETWORK 7pm-10pm
(Plug in and get connected!)

Kicking off at 7pm with Funky People Network… a two hour networking event to meet funky people in the creative industry. The Funky People Network is an arena that fast tracks you to connect with people 'in the loop'.

Part 2
THE WORLD'S FIRST LIVE MUSIC AUCTION 9pm-10pm
(Tune in to the vibes!)

For the last hour of Funky People Network we introduce our second exciting and innovatory club concept… Our DJs start the 'Vibes' warm up by playing music you can buy… it's the world's first 'live in the mix' music auction with 2 Dam Funky & E-Mix on the mike… our DJs play the records and CDs and you can buy them… so be part of club history and participate in the world's first live record auction. We'll be treating you to club classics, deep rare groove and deep sh*t you have never heard before! Just raise your hand to buy the tunes and grab yourself a CD or Vinyl bargain!

Part 3
THE 'VIBES' PARTY SHAKEDOWN 10pm-3pm
(Absorb the energy and recharge your spirit!)

5 hours of Deep Vibes.
At 10pm the party begins… boogie and shakedown with The Vibes Crew… (2 Dam Funky 'DJ Unshazamable', E-Mix and The Crazy Jammers). We dig deep to bring the finest selection of raregroove, funky vibes, jazzy beats and deep sh*t you won't hear played anywhere else. With DJ 2 Dam Funky dropping his inimitable blend of unshazamable beats and deep funk and Vibemaster E-Mix live in the mix the evening takes you on an inspirational musical roller-coaster.

Doors: 7:00 PM
Price: £2 Before 10pm with membership card / £5 after 10pm (£3 with membership card)
Entry: Over 18s only. Photo ID required.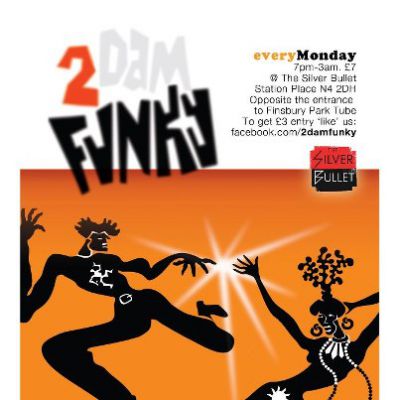 ---
---
---