Indie
Jubilee club @Barfly Camden
@Barfly Camden
Every Friday


10PM - 3AM


@Barfly Camden

|

0000-00-00 22:00:00 - 0000-00-00 03:00:00
49 Chalk Farm Road
---
Jubilee club @Barfly Camden

---
Indie rock 'n' roll club Jubilee takes place every Friday 10pm-3am at the Barfly

Founded by Chris McCormack (ex 3 Colours Red/Gary Numan guitarist) and Carl Barat (Libertines/Dirty Pretty Things),

Jubilee is mix of upcoming and established bands, DJ's and other offerings of spectacular variety every Friday night earning both a reputation as the most up and coming indie rock 'n' roll nights in the country.

Doors open promptly at 10pm and close firmly at 3am, taking both floors of Barfly you can expect and crazy and unpredictable night with live acts playing upstairs and DJ"s downstairs with ALOT of surprises along the way.

On the decks expect to hear: Kasabian – Arctic Monkeys – QOTSA – Foofighters – AC/DC – The Clash – Sex Pistols – The Libertines – Elvis – The Specials – Oasis – The Who – Muse – Biffy Clyro – The Kinks – Small Faces – White Stripes – Kings of Leon – Stone Roses – Weezer – RATM – MGMT – Pixies – Dirty Pretty Things – The Cure – Florence And The Machine and much more!

*Please note: Tickets guarantee entry to the club but do not guarantee entry to the live room upstairs if it is full to capacity, if there is a specific act you want to see early entry is advised.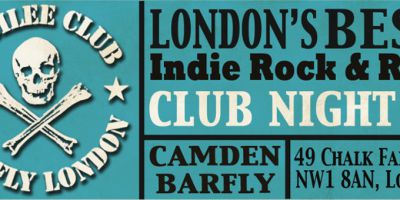 ---
---
---