Other
Performance Club Night
@The Beacon Court Tavern
Line Up: Agent Straughan
Friday
24
th
May 2013
8PM - 12AM
Door price £FREE
---
Performance Club Night

---
We are very pleased to announce the return of "Performance". Featuring our special mix of alternative tracks from the 60s, 70s and 80s and cult films. Come join us at the famous Beacon Court Tavern, Gillingham and dance the night away to 60's garage & psychedelic rock; 70's punk, new wave & glam rock; and 80s electro, synthpop and indie hits. Feast your eyes on a surreal backdrop of 60's garage and psychedelic footage, classic rock films, and iconic cult films.

All this and it's FREE entry!

Expect to hear: Roxy Music, T-Rex, Bowie, The Kinks, Depeche Mode, The Beatles, The Who, The Sonics, The Rolling Stones, The Seeds, The Specials, Echo and the Bunnymen, The Cure, Blondie, The Human League, New Order, Siouxsie and the Banshees, Talking Heads, Alice Cooper, The Monkees, Nancy Sinatra, The Doors, Gary Numan, The Yardbirds, Eurythmics, Sparks, Adam and the Ants, Duran Duran, Sam the Sham and The Pharaohs and more!

Performance - an alternative night out for alternative people.

Find us on Facebook!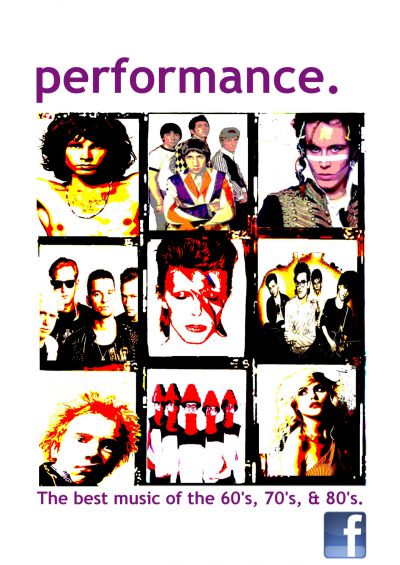 ---
---