Other
Bass[sic]
@The Corner shop
Line Up: Cut La Roc, Ford Audio aka Merka + residents
Saturday
31
st
March 2012
8PM - 2AM
123 Shoreditch High Street
Door price £FREE
---
Bass[sic]

---
Come and join us for the third edition of our bass music night Bass[sic] in the heart of Shoreditch for FREE with two dance music legends on the decks:

CUT LA ROC (Rocstar)
MERKA (Ford Audio)

Plus residents:
Hubie
rejectbeats
Big Nick D

with the visual skills of VJ Psycho Monkey
& a Funktion One Soundsystem this'll be a party not to be missed...

For more info check our website: http://bass-sic.co.uk/

Have a listen to some Bass[sic] DJ mixes: http://www.mixcloud.com/Bass_Sic/

Lee Potter, aka Cut La Roc, made his name in the hurly-burly big beat days of the late 90s. Signed to Skint Records, the same label as Norman 'Fatboy' Cook, he was responsible for pioneering the big beat sound worldwide alongside Midfield General, Bentley Rhythm Ace and Fatboy Slim himself.
Cut La Roc held a four-year residency at the Big Beat Boutique in his hometown of Brighton. He's DJ'd all around the world several times, appeared on Top Of The Pops, set a new Guinness world record for DJing with the most decks at once (nine!), and has recorded with vocalists such as Snow Patrol frontman Gary Lightbody.

Born in deepest darkest Somerset thirty odd years ago, Merka rose to the top of the international breaks scene after the release of his debut album Beserka in 2007. Releases on Re:connect, Big Square, Unstable & many others helped cement his status as a breakbeat maverick resulting in remixes for the likes of the Dub Pistols, Soul of Man & Unique 3.
After a sabbatical he's back, this time under the guise of Ford Audio. Bass[sic] will be the first place to hear Ford Audio & this new beginning for one of the scenes most forward thinking DJ's.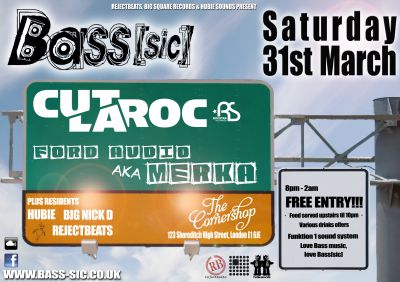 ---
Line Up/
Cut La Roc
Ford Audio aka Merka + residents
---
---