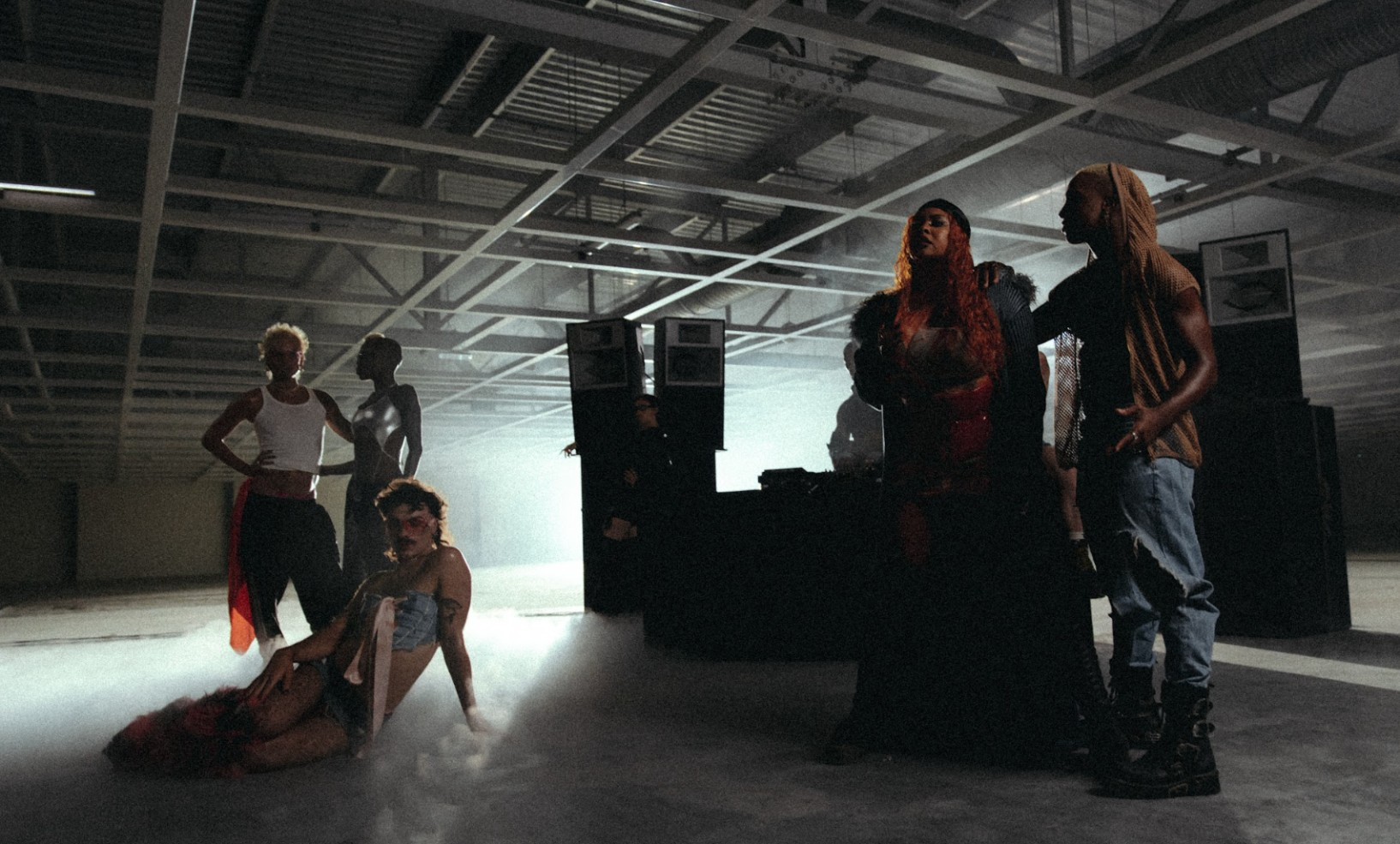 DRUMSHEDS 2023 - INTRODUCING FALSE IDOLS : LIBERATION IS ONLY A BEAT AWAY
A brand new movement with a rebellious manifesto, FALSE IDOLS is a party built with a new energy and creative consciousness. FALSE IDOLS will challenge our beliefs, craft a new dancefloor tribe, and find freedom within the music - a new wave of harmonious hedonism.
Debuting on Saturday December 2nd as part of the first season at London's new cultural space DRUMSHEDS, the first FALSE IDOLS will bring together a colourful, world-class line-up of dynamic artists including Sugababes, Shygirl, Job Jobse, Saoirse, Jamz Supernova, Josh Caffé, Jodie Harsh, Paranoid London and more, set to play across the three mighty DRUMSHEDS spaces - X Room, Y Room, Z Room.
Masterminded by the team behind Broadwick Live (Printworks, Drumsheds, Field Day) Little Gay Brother, and Percolate, FALSE IDOLS will be a shared and safe space for London's party people, and the dancefloor is open to all. Following the theme of collective consciousness, they open their arms to all who love freely with passion despite differences - creed, colour, queer, straight, LGBQTi+, the community isn't restricted by barriers. Guests, dancers, DJs, artists and more will be unified in a mega melting pot, with an epic first outing that will bring together 15,000 bodies. False Idols is a statement of intent that sticks two fingers up to the fakes, the haters, the false prophets, and time wasters. Tickets are available here from £27.50.
Across DRUMSHEDS' three soaring industrial spaces, a selection of pop and electronic music royalty are set to take the reins when it comes to showtime. In the impressive X ROOM aka THE TEMPLE, Sugababes will take the centre stage. After sell out performances at the O2, a heavily-hyped Boiler Room and a shutting down the Avalon stage at Glastonbury, the dream team unite for a special live show in DRUMSHEDS' main room. The trio's history has been genetically intertwined with London since meeting as teenagers at an under 18s rave, and their comeback has seen them become loved far and wide. Mutya, Keisha and Siobhan have championed diversity, difference and resilience, with a discography that boasts anthems like Overload, UGLY, Freak Like Me, Too Lost In You and other iconic tracks. Sugababes will play live, with all their classics onboard, plus new music, and some of their infamous takes on classic garage and club anthems. Shygirl will also head up proceedings in the main room, another incredible talent melting the barriers between rap, pop and alternative sounds in her fun and catchy productions.
On DJ duties in the main room are another set of selectors set to add to harmonious hedonism - the B.O.T.A. Eliza Rose brings garage and rave bangers with a heavy sprinkling of fun, whilst Miss Jodie Harsh steps up to play - a name who has been a fundamental player of the UKs queer scene for decades, championing LGBQTI+ culture. Also on board is selector Job Jobse, whose dynamic and distinctive sets have him pinned as one Europe's most hyped DJs right now. Job will go b2b with Body Movements Festival co-founder and tRUST label boss Saoirse - another pivotal figure responsible for elevating queer culture within the UK. Ross From Friends also joins with a DJ set, the Ninja Tune / Brainfeeder affiliate brings his take on emotive, melodic, and grooving sounds for a DJ set at FALSE IDOLS.
Y Room aka THE ORACLE brings together a tag team of trailblazers for the day to night session, with DJs, producers and performers on board to keep energy levels at peak performance. London via Detroit, Demi Riquísimo is known for his killer acid, italo house and disco creations, and he plays b2b with Femme Fraiche head honcho and icon Michelle Manetti. GIDEÖN also joins, an unmistakable name in the queer movement, he has been the mastermind behind Glastonbury's Block9 and NYC Downlow after hours club. Another name on board is jacking house and steamy specialist Josh Caffé, plus there's Jaguar, MikeQ, Nathan Micay and revered production duo Paranoid London will play live.
Z Room, nicknamed FOOLS GOLD, is a homage to all things fun and free, queer and fabulous, dressy and with a ballroom influence. There's an assortment of mainstays, and breakthrough talent from the pop and electronic worlds, plus a selection of scene stalwarts from the LGBQTI+ underground including Chapter 10's Dan Beaumont going b2b with Wes Ballagley, Adonis resident Grace Sands, Little Gay Brother resident Joshua James and more. Expect 100% fun party bangers from Huns N'Roses and the Raw Silk teams, always delivering feel-good sets.
FALSE IDOLS finds its home at DRUMSHEDS, the brand new space by Broadwick Live set in a disused warehouse in North London. Its malleable and industrial spaces are set to be transformed as these colourful party crews come through to take over the enormous space.
"We envision False Idols as a place where we, all tribes, people, and ravers can come together and enjoy music no matter their sexuality and gender. Of course, there is queer programming at its heart, but we are open to everybody, as long as you are open to everybody. This is a new cult for the brave, bold, and beautiful souls that what to revel in the love and joy that dance music is meant to herald" - Clayton Wright, Little Gay Brother
"It has been a privilege to work with some of the most dynamic, engaging and enriching promoters (Percolate and Little Gay Brother) to create FALSE IDOLS - a brave new music brand which promises to be a highlight of DRUMSHEDS first season. We can't wait to see it come to life" - Ebony Rhineyjames, Marketing Director Broadwick Live
'We are ecstatic to be a part of bringing such an exciting show to London, the scale, concept and production are of the highest spec - it's basically going to be an indoor festival.' - Fred Letts and Simon Denby, Percolate
False Idols first edition will be curated in part by the Broadwick Live team, along with the teams behind Little Gay Brother and Percolate. Behind some of the smartest and most thoughtful and successful parties in their respective worlds, this is an iconic meeting of minds to create False Idols. With a portfolio that includes some of the UK's most impressive experience-led brands including Printworks, Beams, Field Day, Depot Mayfield and more, Broadwick are driven to create real impact through pure yet powerful live experiences in unique spaces that are home to communities and culture. Located in the North London's industrial Meridian Water zone, which is only 4 mins from Tottenham Hale (Victoria Line) DRUMSHEDS will be easily accessible via tube, rail and buses.
Find your power, your people, your freedom.
FALSE IDOLS
SATURDAY, 2 DECEMBER - DRUMSHEDS
Sugababes - Shygirl
Eliza Rose - Job Jobse b2b Saoirse - Jodie Harsh - Ross From Friends (DJ)
Demi Riquísimo b2b Michelle Manetti - GIDEÖN - JACOTÉNE - Jaguar- Jamz Supernova - Josh Caffé (Live) - Mike Q - Nathan Micay - Paranoid London (Live)
A Man To Pet - Bottom Heavy (Dan Beaumont b2b Wes Baggaley) - Grace Sands - Huns N' Roses - Jay Jay Revlon - Joshua James - LEXII - RAW SILK - YSANNE
FALSE IDOLS TICKETS from £27.50
ON SALE : Pre-sale 11am Weds 26th, general sale 11am Thurs 27th
drumshedslondon.com/event/false-idols