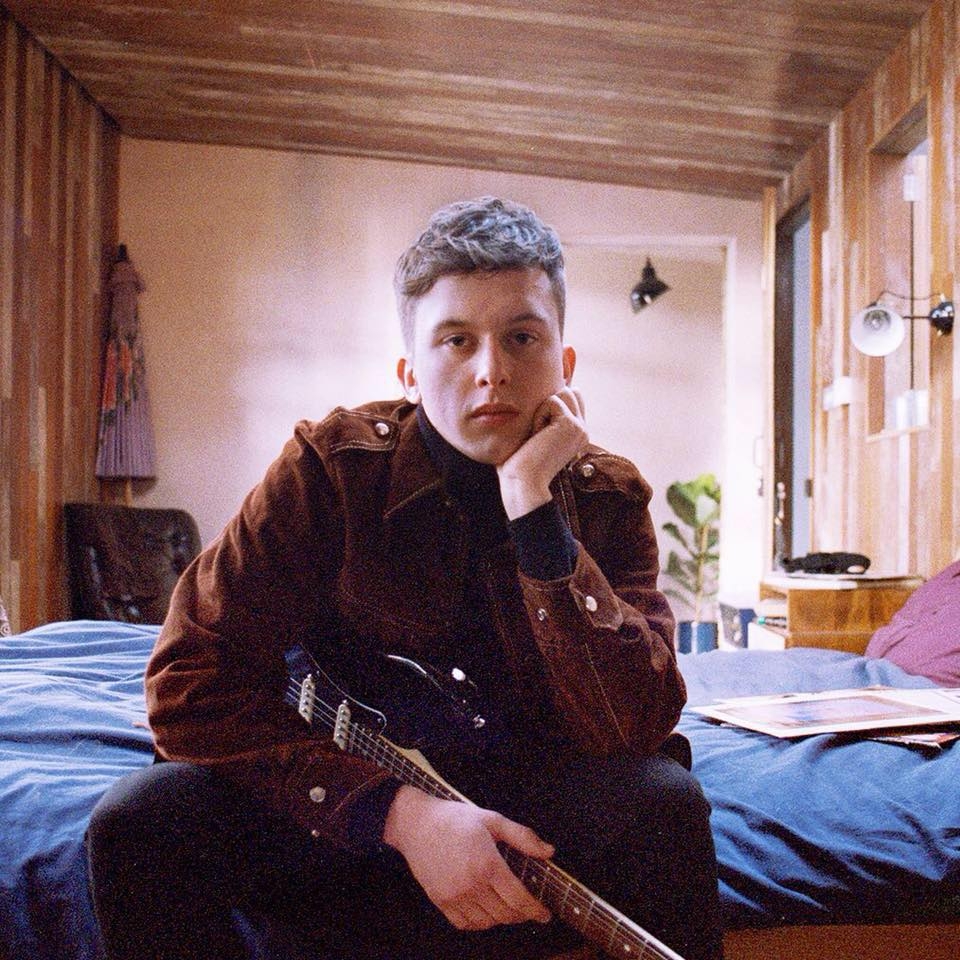 Ten Tonnes shares his path to success
Indie | Friday 10th August 2018 | Alice
Recently Ten Tonnes have been popping up on everyone's radar following the success of new and well known songs like "Lucy" which flew into our music channels and streaming services. Sitting with Ethan at the Paganini Ballroom Brighton set in what can be only described as a traditionally elegant and charming venue I found myself inherently excited to talk Ethan's latest endeavours including his highly anticipated debut album and his high profiled and well deserved support tours which have blown many away following his ride to success within the industry.
How did your passion for music arise?
There was always music on in the house; my parents are big music fans, so there was Paul Simon, Van Morrison and Bob Dylan playing in the background. As well as that my dad had guitars around, so a good environment to encourage us to play music. My older brother began playing bass first and he said I should learn drums, as we'd be able to have our own thing going on. I began playing drums around 9 and then progressed onto the guitar around 13. From there I'd written short stories when I was young. English was my favourite subject at school, which had a huge impact, so I then started writing songs after that. They weren't great at first, when I look back I still think the same I must admit. I later went to York University to do music production which after a year I dropped out, as I was set on doing my own music.
Where do you find your inspiration?
My mum's a massive fan of The Specials. Both my parents have a massive music collection. I loved it but that's the music you grow up on but the music you later discover yourself is what you're into. I listen to mainly older music like Eddie Cochran, The Smiths, and The Pixies. I start listening to an artist and then what they listened to eventually creating a web of music.
How does your writing style come about?
I start in a load of different ways. I record everything on voice memos with the guitar or at the piano with small ideas, finding out what's going on. A lot of it is making phonetic vowel sounds before it progresses. Most of my music is about relationships and is introspective, it's what I'm most comfortable writing about. I love proper good song writing, as stupid as that may sound. Classic song writing and big choruses. Most of my songs are like 20% reality starting from something that happened, the rest isn't, the truth always gets in the way of a good story. It's not always going to be to the letter of what happened in your life. My voice memos are the best. Going back over them and finding something from a year ago and thinking that's good before tweaking it is a great experience. If I'm left to my own devices I can just write for ages. I've been doing some co writing lately, which is great as you can end up with a song at the end of two days. At first I wasn't sure about co- writing as I didn't think I'd get anything from it but the more I've done the more I see the value of it. It makes me excited about song writing again.

You had an incredible experience being able to work with Burberry and being alongside some of the most incredible artists who also had the opportunity, how was the experience for you?
When I first got the offer it was bonkers as Burberry is massive! They were really supportive of my work and I did a few Burberry acoustic sessions, which was great. It really projected my music around the world. The effect is similar like BBC introducing, when you have the support of such a well-known brand, it can challenge any doubts, it makes you think I am made for pursuing this and that other people do likeit.
Who would you want to work with if you had any choice?
I'd love to make music for film. That's one of my dreams as I'm a massive film nerd. I nearly did film at university; it's my otherpassion.
What's your favourite film?
I was thinking about this the other day. I've got a few, The Godfather is a classic, There Will Be Blood, Life of Brian is another one
Recently many venues are closing around the UK, how do you feel as someone who relies on these venues?
It's ridiculous, there's no point behind it. The government we have at the moment has created a complete defunding of the arts in general. That plays into the venues having to close. That's where the problem is.
Favourite venue in London?
Scala is great as the upper level still feels like you're in the mix. I loved the gig there too with Twin Peaks which I'm
sure plays into that. I recently played the Sebright Arms, which was great, the Lexington and Camden assembly also.
What do we have in store for the debut album?
It's in the works. We're working on it and have got a lot done. At the moment we are in the finishing stages of writing, but we are going to keep on writing until it's perfect. I think we've got the track list in but just a few more to record for the deluxe version. I think it's going to end up being out early next year, like January.
Talk me through your expectations of the support tours recently including Stereophonics?
I've been doing loads of support tours, which is the best thing in the world as you get to play to somebody else's crowd and try and win them over. It's a win win situation as they either don't like you which is ok and you get the experience of playing a gig or they love you and get a few more fans from that. Can't go wrong. You also get to play these nuts venues and ones I've always wanted to play off my bucketlist.
What is the song you feel most connected to?
Lucy. It's the one that has got me a career up to this point in the early days. It's still my favourite to play live and I think we are going to re-release it as a single at some point. I love the most recent single up until it comes out. All those current songs I live with and play them all the time but then they become someone else's song when they come out.
What is your next move?
Festival season and then getting the album out. It's always been a dream to have an album out.
Sitting with Ethan his drive and bright nature shines through showing why so many fans and bands are falling in love with his music. With support tour after support tour, supporting some of the biggest and best artists like Stereophonics, it's no surprise Ethan's gathered a following to some of the UK's biggest and best venues. It is refreshing to see not only talent but also someone set on perfecting their art to the best it can be. 2018 has shown to be his year, with big things to come.
Follow Ten Tonnes on Facebook, Twitter and YouTube